SilkAir of Singapore operated its maiden flight to Cam Ranh on Dec. 12, the day the airport in the central province of Khanh Hoa officially became an international one.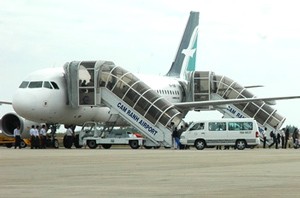 A SilkAir plane lands at Cam Ranh International Airport on Dec. 12 (Photo: Tuoi Tre)
This SilkAir plane was the first international flight to the Cam Ranh Airport, which now is the central region's biggest airport. The Airbus A319 craft landed with more than 100 passengers on board. The official inauguration of this international airport was made together with the landing.
Deputy Prime Minister Hoang Trung Hai attended the airport inauguration ceremony.
However, SilkAir has not applied with the Civil Aviation Administration of Vietnam (CAAV) for its frequent flights to Cam Ranh as the airline currently flies to Danang International Airport in Danang City, also on the central coast, according to Mr. Ho Quoc Cuong, deputy director of the Air Transportation Department, CAAV.
Meanwhile, Russia's Vladivostok Air has been reported to fly to Cam Ranh in February next year.
This July, Deputy PM Hai approved a master plan for Cam Ranh International Airport applicable until 2020 and with a vision till 2030. The total investment for the airport until 2030 is set at VND10.5 trillion, or around US$563 million.
In Nov. 2007, work began on a new terminal at the airport. Cam Ranh now has a new two-story terminal in place, able to receive 800 passengers (including 200 international ones) in a peak hour. The VND200 million terminal also has waiting areas for business and economy-class passengers and other facilities.
As planned for 2020, Cam Ranh Airport will have two runways for 27 aircraft of different types such as Airbus A320, Boeing 767, Boeing 777, Boeing 747 and ATR72 to land and take off in a peak hour. The airport is also designed to handle 37 airplanes in a peak hour by 2030.