The kitchens of the hotels chosen for the APEC summit are ready and waiting for their distinguished guests from different continents, different cultures and with different tastes in food. The menu of Asian, European and African food should be quite a surprise.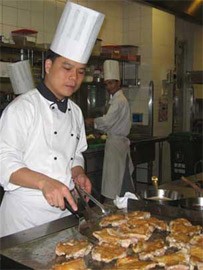 Deputy Chef-general of Ha Noi Sheraton Hotel Nguyen Huu Phuoc
"We have prepared a special menu made from the highest quality ingredients for the delegations," said Nguyen Huu Phuoc, the number two man in the kitchen of the Ha Noi Sheraton, where nearly 300 delegates will stay, including U.S. President George Bush and his wife.
On the Vietnamese menu will be nem chien (fried spring rolls), pho (noodle soup), bun cha (charcoal-broiled pork with rice vermicelli), canh chua (sour fish soup) and ca kho to (simmered fish in caramel sauce), to name a few. And for breakfast we'll have bun cha, pho and several kinds of nem (pickled pork roll).
"It's a great opportunity for us to present traditional food to our international friends. I am ready to introduce Vietnamese cuisine to the U.S. president. For example, I can explain what kinds of sauce go with bun cha, or what nem chien (cha gio) is made of," Phuoc added.
The food is being prepared by the Sheraton's 58 cooks along with several chefs who have been invited to assist. They'll be divided into three shifts a day so that the delegates can eat whatever the time.
At the Ha Noi Hilton, the Ba Mien (three regions) restaurant will be serving nearly 60 dishes to the Russian, Australian and New Zealand delegations.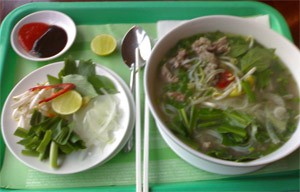 Pho (Vietnamese noodle soupe) (Photo:KK)
There will be the northern dishes Goi bap chuoi (banana blossom salad), thit ga la chanh (chicken meat and lemon leaves) and pho, along with nem tuoi cuon (fresh meat rolls), bun bo Hue (Hue beef noodle soup) and banh bot loc (shrimp sticky cake) from the central coast and cha gio (spring rolls), banh khot (mini crepes) and bo nuong ong tre (fried beef in bamboo cylinder) from the south.
"At our restaurant they will be eating the specialties of the three regions with specific traditional spices, which are the key to food. We want to show them the diversity and precision of Vietnamese food," said Nguyen Xuan Cuong, a chef at Ba Mien with 20 years of experience under the big white hat.
The Horison Hotel will be hosting Taipei, Indonesia and Malaysia. Because there are Muslim delegates, who are prohibited from eating pork, executive chef Armbsruter Martin from Germany will put out a special buffet of more than 100 dishes with name tags in two languages.
Since the Nikko Hotel will be housing the Japanese delegation it's no surprise that the kitchen staff will be preparing Japanese food for the foreign guests, but there will also be Vietnamese food since this is Viet Nam. The Indonesians, however, are bringing along their own chef and cooks.