Binh Dinh Province is not only attractive for the mysterious beauty of seven clusters of Cham tower in Tay Son town, but also the spectacular beauty of Ham Ho.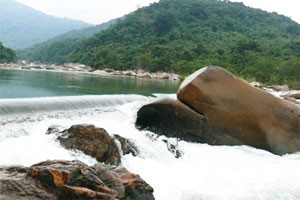 Imposing landscape of Ham Ho
Ham Ho is the confluence of Dong Huu River and Cat River. This beautiful site is a section of river with the length of about 3 kilometers.

The two sides of the river are full of rolling stones.

Flickering are the green clumps of tree and the purple of violet flower.

There are also some clusters of orchid hanging on the branches of some large trees.
Coming to Ham Ho, tourists will have a chance to wallow in the imposing landscape of mountain, river and forest.

Not only that, the masterpiece in the river – bed will definitely impresses any tourists. With the width of 30 meters, the river – bed is full of granite in many colors. They go up and down and stand against each other to create various forms.
In dry season, when there is sunshine, these granite stones will alight with sparkling colors. The river seems like it is full of diamond.
Each stone has its own shape, and tourists can let their imagination free to look at those beautiful stone in any way they like.
Tourists can also have sightseeing along the river by ship. The particularly interesting scene begins with a dam full of clear and cool water. Then, going against the current for a while, there will be a fabricating cliff like a city wall.
Come nearer to the upstream waters, the river is more sloping and runs faster. Each sections of the river are divided into some small waterfalls. The water is poured down strongly and bounces noisily against the cliffs. The whole scene is so impressive.
Sometimes, the sound of some birds and gecko resound here and there, which makes the scenery wilder and livelier.
Apart from beautiful and imposing landscape, Ham Ho is also a war vestige. With special terrain, this place used to be revolutionary base in some resistance wars. Therefore, this tourist attraction has a critical historic meaning.
A journey to Ham Ho in Binh Dinh province will certainly help tourists discover many new interesting things about nature as well as history.