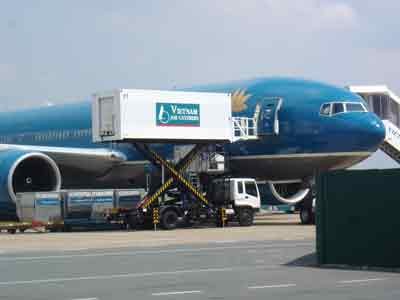 Vietnam has five airline operators. Domestic flights play an important role in economic development and national security (Photo: H.Son)
In response to a proposal by the Ministry of Transport and the Ministry of Defense that the government should reject the controversial Hanoi-Ho Chi Minh City air route, Vietnamese Prime Minister Nguyen Tan Dung agreed to halt the project.
The project was conceived in 1983 by former military pilot Mai Trong Tuan who said a new, straight air route along the 106th meridian east would cut the flying distance and flight times between Hanoi and HCMC. This "Golden Air Route" would save a great deal of money, Tuan said.
But in an official statement November 30, the Ministry of Transport said the new route is just 60 km shorter than the current one and would take aircraft over the neighboring countries of Cambodia and Laos.
Airlines would have to pay fees to the other countries for use of their air space in addition to other international flight charges. The cost of flights would therefore increase by up to US$800 excluding passenger service charges, the statement said.
 
The PM also assigned the two ministries to work to improve the current Hanoi-HCM City air route to ensure economic growth and national security.
Related articles:
Gov't should abandon aviation Golden Route: transport ministry
New Hanoi-HCMC air route not practicable: officials
VEA to hold series of debates on "Golden Air Route"
Proposal on new Hanoi-HCM City air route needs more thorough review: CAAV
CAAV turns away from 'golden air route'
Discussions over new Hanoi-HCM City air route
Air authority accepts new flight route plans