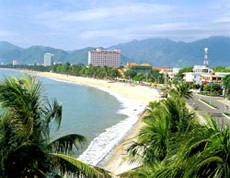 Nha Trang City, Photo : TC
According to Khanh Hoa Province's Trade and Tourism Department, the opening ceremony of the summer tourist season will take place on April 29, 2006 in Nha Trang sea square. The winners of Khanh Hoa tourism slogan contest organized by Khanh Hoa Newspaper, will be also announced.
The Provincial People's Committee calls on hotels, restaurants and tourist agencies to improve their appearance and keep prices stable.

In 2006, several events are considered good opportunities for tourist promotion in Khanh Hoa, such as Asia-Pacific Economic Cooperation (APEC) and the final round of Miss Viet Nam 2006, which is said to take place in Hon Ngoc Viet resort. On this occasion, the Sea Festival 2007 Program will be announced.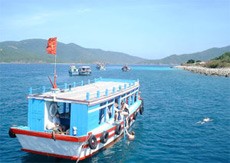 Tourists is taking part in a scuba diving tour in sea Nha Trang, Photo : TC
Besides, according to "The Most Beautiful Bays in the World Club" (*), Nha Trang and Ha Long were admitted as the 29th and 30th members to the list of beautiful bays in Argentina, Brazil, Canada, England, France, Germany, Madagascar, the USA, etc. The recognition will attract more tourists to Nha Trang.

Khanh Hoa Province's Trade and Tourism Department will cooperate with Institute for Tourism Research to modify the overall tourist planning to 2010 and 2020, which is expected to finish in 2006.

In addition, the relevant departments have to deploy investment projects of tourist areas such as Bai Dau-Cam Ranh, Van Phong and other projects in accordance with the approved plan.