Mexican culture and food will be on the menu at the Melia Ha Noi Hotel from September 12 – 21 to mark Mexico's National Day, September 16.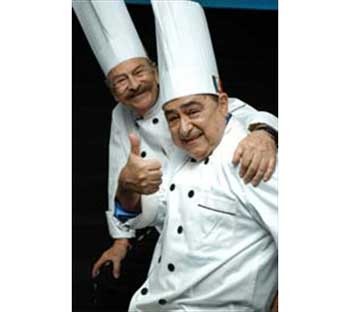 Mexican master chefs Sergio Snyder (L) and Roberto Treves.
Mexican's diverse cuisine derives features Spain, the Aztecs and Mayans. Mexican food is well-known for flavors, colorful decoration, especially the strong fragrance of variety of spices and hot taste of chilli.
The Mexican culinary festival will introduce to Vietnamese gourmands such dishes such as mole poblano (a dish made with chicken, chilli and chocotate), chicken soup and fish veracruzana (fish cooked with tomatoes and onions), quesadillas pancake, crepes Tacos and Burritos and others.
In addition, traditional drinks, including tequila and margaritas, will also be available. Tequila is made from the blue agave (Agave tequilana azul), which is native to Mexico. The margarita is one of the most common tequila-based cocktails in the world. It is made with tequila mixed triple sec (an orange-flavored liqueur) and lime or lemon juice, often served with salt on the glass rim.
Mexico's Master Chefs Roberto Treves and Sergio Snyder have 39 years in cooking and have trained more than 300 cooks specializing in Mexican food throughout the world. They were invited to join cooking festivals in over 82 countries and have been presenting Mexican dishes in Asia for 15 years. They will also entertain audiences by singing wonderful Mexican songs.
Visitors also will have a chance to contemplate paintings of Mexican artist Teodulo Romulo
The ticket price is US$26 for an adult and US$14 for children 10 and under