Viet Nam's exciting and unique cuisine provides a way to experience the traditional culture of the land and people firsthand. What better way to start than with the popular lotus?
Lotus, a water plant that grows in the mud of shallow ponds, lagoons, marshes and flooded fields, is found throughout Viet Nam, but is most prominent in Southern Viet Nam. 
It is cultivated mainly for food in southern Viet Nam. It is prized mostly for its crisp rhizomes and seeds, though the flowers and leaves are also eaten. The rhizomes are eaten in a variety of sweet dishes savory soups in Viet Nam.
Lotus seedpods are sold in Vietnamese rural markets for the sweet and tasty seeds eaten raw, roasted, boiled, candied or ground into flour.

Many years ago, the seeds were popular at formal parties of the royal and high-rank court officials. The seeds, which had to be picked up in the Tinh Tam Lake, were cooked just enough to make sure that the dish would keep its nourishing values. 
In addition, both the leaves and leaf stalks are eaten as vegetables in Viet Nam. The disc-shaped leaves either float on the water or protrude above the surface. They have long stalks scattered with small bumps.
Young lotus leaves, stalks and flowers are also popular vegetables in Viet Nam. Vietnamese women often cut clean leaves into small slices and then boil them in fresh water. Afterwards, the water will be used to make rice or green pea soup.
Leaf stalks are also mixed with other vegetables in salads delicious to most dieters and to anybody else who wants to eat healthy.
In Viet Nam, lotus tea is the most common drink of people of elder people. People often drink lotus tea in the morning or anytime in a day, helping reduce daily tiredness and fatigue.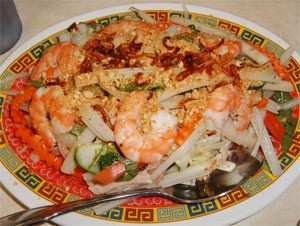 Lotus root salad
The lotus has found its way into Vietnamese cultural history and is featured extensively in Vietnamese literature and art. It is also used to make beads, clothing, lamps and is prominent in regional architecture.
The lotus is just one way you can experience Vietnamese culinary tradition on your vacation in Asia.
There is a cornucopia of books offering recipes for classic Vietnamese dishes like lotus rootstock salad, candied lotus seeds as well as listings for dining establishment around the country, some of which offer exciting cooking classes to experience the art firsthand.