Like never before, travel agencies have stopped taking further bookings for both overseas and domestic tours with about one month still remaining before the Lunar New Year (Tet) which falls in this February.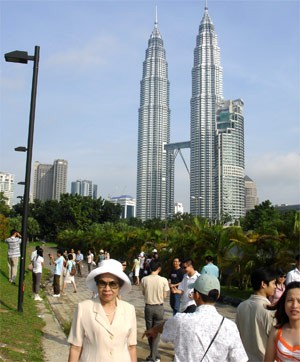 One of the most attractive international tours to be taken by Vietnamese tourists this Tet holiday is Malaysia-Singapore (Photo: H.Y.)
Big travel companies in Ho Chi Minh City have taken bookings from 7,000-8,000 tourists for this Tet holiday. 
 
Vietravel has 3,800 tourists for overseas tours and 3,500 for domestic tours. Fiditour has 4,200 tourists booking for international tours and record 6,000 for domestic tours.
 
The most attractive international tours are Hong Kong (China), Thailand, Malayisa-Singapore.
 
Especially, high-class tours costing over US$1,000 to South Africa and India are also full. Vietravel has closed two tours to South Africa, Australia and Egypt departing on the second and 14th days of the Lunar New Year.
 
The most attractive domestic tours are still Nha Trang, Da Lai and Phu Quoc Island.
 
The number of overseas Vietnamese visiting their homeland during Tet has also increased this year, about 30 percent over last year's Tet. Most of them are originally from Ha Noi, the central region and the Mekong Delta.