Thai chefs are serving Thai food lovers during a six-day cuisine festival in Ho Chi Minh City starting Monday, in which a trip to Phuket for two persons is available for the lucky winner.
Mango with sticky rice, a favorite Thai dessert, is part of the Thai Food Festival held at the five-star hotel Mövenpick Saigon in Phu Nhuan District.
Other popular Thai dishes like Tom Yum Goong, Pad Thai, Green Curry, and Yam Won Sen are also present at the hotel's Café Saigon Restaurant to help the diners get a sense of Thailand's hot spices.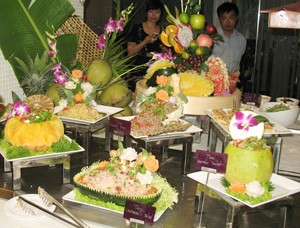 Thai salad of different kinds such as squid salad, minced beef salad, vermicelli salad and pomelo salad are featured in the food show at the Mövenpick's Café Saigon Restaurant (Photo: Thuy Nguyen)
All the dishes are prepared by Thai chefs from the Mövenpick Hotel Karon Beach Phuket, a sister property of the Mövenpick Saigon, Mr. Knuth Kiefer, General Manager Vietnam of Mövenpick Hotels & Resorts said while launching the festival Monday.
The six-day food show is served as an international buffet including authentic Thai dishes.
Graham Potter, director of marketing and business development at Ho Chi Minh City-based Long Hai Security Services, a Securitas company, was seen at a table Monday. The Canadian man said he loved Thai foods, that was why he came.
Mr. Kiefer of Mövenpick added, "Not only will the festival be a great event for our guests, it also gives our kitchen team the unique opportunity to learn and understand the food of a different country."