The northern province of Thai Nguyen is planning for Thai Nguyen Tourism Year 2007. To organize the program successfully, the province is promptly building infrastructure, re-training human resources, restoring and renovating historical relics and forming combined regional and inter-regional routes.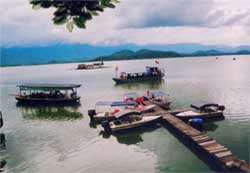 Ho Nui Coc (Nui Coc Reservoir) in Thai Nguyen province
A seminar themed "Thai Nguyen Tourism - Potential and Development" was organized on July 25 in Thai Nguyen city and attended by provincial leaders, relevant departments and enterprises. It is one of the starting activities to launch the national tourist program in the 2006-2010 period and leading towards Thai Nguyen Tourism Year 2007.
The Viet Nam National Administration of Tourism (VNAT) had already made a survey of tourist areas in Thai Nguyen before the seminar took place.
Several solutions were proposed and discussed at the seminar with an aim to create an interdisciplinary and inter-regional coordination to exploit tourist potentials; share business experience and build tourist products in Thai Nguyen; utilize Thai Nguyen's cultural values and revolutionary history in tourism development; and set Thai Nguyen's tourist development direction in relation to midland and northern mountainous provinces.
In addition, to prepare for Thai Nguyen Tourism Year 2007, Ho Nui Coc Union Tourist Joint-Stock Company has invested for the improvement of the service quality, infrastructure and projects of entertainment areas to bring an attractive and diversified image of Ho Nui Coc (Nui Coc Reservoir) to visitors.
Nui Coc Reservoir is a main tourist area in Thai Nguyen province and attracted more than 500,000 visitors every year.