There have been nearly 35,000 (70 per cent )Thai tourists out of 50,000 foreign visitors entering Viet Nam through Lao Bao border gate, the Quang Tri Tourism and Trade Department announced.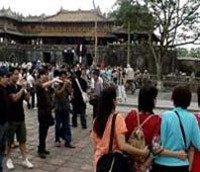 Thai tourists pay a visit to Hue

Da Nang has received about 4,000 Thai tourists in seven months; a year-on-year increase of 300 percent, according to the Da Nang Tourism Department's statistics.
Mrs. Duong Thi Tho, head of tourism management division of the Da Nang Tourism Department, said that each Thai tourist spends from US$150 -200 mostly on dried seafood and fine arts in Non Nuoc.

At present, tourist companies in Viet Nam's central region and those of Thailand are competing strongly with each other on tour prices, causing costs to drop by 15 %.
The number of Thai tourists who travel to Viet Nam's central region overland or Thai caravans will increase considerably since the construction of a bridge across Mekong River from a region in northeastern Thailand to Lao is completed at this year's end.