Thanh Hoa's Department of Tourism and Association of Literature and Art have launched a logo-design contest and a photographic competition to promote tourism in the northern province, where the 100th anniversary of Sam Son Beach will be celebrated next year.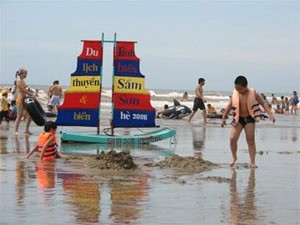 Sam Son Beach
What the local authorities are looking for in a logo is something that captures the special features and characteristics of Thanh Hoa in a simple, condensed and catchy fashion.
With the photo contest, the subjects can be the local sights, places of historical interest, or the people and the changes in this period of industrialization and modernization.
The Sam Son Centenary Festival will be held from April 28 to May 1. Besides introducing and promoting historical and cultural values the festival will be used to advertise the need for investment to make Sam Son a major tourist drawcard.
According to the organizers, who are confident of drawing large numbers of visitors from within and beyond Viet Nam, the festival will "arouse a sense of civic responsibility and pride in the land to keep the natural resources and traditional cultural beauty, and improve life."
Sam Son and its beautiful beaches and historical relics have been drawing tourists since 1907.