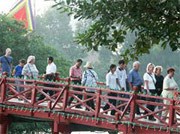 Foreign visitors in Viet Nam, photo: SGGP

Viet Nam is a new attractive destination for MICE visitors. The blooming number of Mice visitors to Viet Nam is a delighting signal; it requires the tourist industry to have strategies to attract these "aristocratic visitors".
 
 Out-break
 

 According to Mr Le Dinh Tuan, Sale and Marketing manager of Da Nang Furama Resort, a large number of Mice visitors have come to Viet Nam for trade fairs, conferences, exhibitions combined with a package travel. Their stays are much longer than those of ordinary tourists. They almost are businessmen and investors. Although the statistics are not exact yet, most Mice tourist companies assert that Mice visitors' spending is not less than US$ 500/ person a day. 
In January 2006, Ben Thanh Tourist signed contracts to service 6 Mice visitor groups of more than 350 people, up 50% from a year earlier. Saigontourist also has contracts on Mice tours in January for 3,000 visitors (including 1,200 international visitors and 1,800 domestic visitors). And Fiditourist will organize tours for more than 2,000 Mice visitors in late January, increasing 40% from the same period last. Some tourist companies said that the Mice visitor market is now not only in ASEAN, but has also been extended into Europe, Australia, Japan, and Korea. 
 In Ho Chi Minh City, in big hotels such as Caravelle, Sheraton, New World, Legend, and Rex, Mice visitors have also increased greatly in numbers. And the five-star hotels in Ha Noi have always been 85- 90% occupied because there have been a lot of foreign businessmen to Ha Noi to seek investment opportunities and attend big international conferences. Most Meeting Rooms and Conference Halls of these hotels are used at high capacity. The reservation will continue through the first quarter of 2006.   
From advantages to strengths
 
Stephen O'Grady, General Director of Caravelle hotel, judges that in comparison with Bangkok, Singapore, Hong Kong… Ho Chi Minh City and Ha Noi have advantageous positions as friendly new destinations and that the service quality and infrastructure are improved, attracting many foreign Mice tourist organizations to Viet Nam. 
While security in some famous tourist areas is not safe, Viet Nam is known as a safe tourist friendly destination.  Mr Le Dinh Tuan adds: "Viet Nam's attraction of Mice visitors currently has advantages, many Mice tourist companies in the world which used to pay little attention to Viet Nam a few years ago, now say that they are preparing to send tourists to Viet Nam. This proves that they have made serious plans for travel to Viet Nam". 
Ms Le Hoang Yen, Manager of Ben Thanh Tourism Center, said that one of the important reasons for which the Mice tourist market has changed to Viet Nam, is "no visa" procedure for visitors who come from ASEAN. "Many big companies in the ASEAN area choose Viet Nam as a reward for their customers instead of a domestic customer conference" she added.  
 Specialists said that Viet Nam should have plans for professional training for experts on marketing to work in MICE tourism.  
 (*) MICE : Meeting, Incentive, Conference and Exhibition.