Deep down towards the east of the Truong Son Mountain Range in the central province of Quang Nam lies a forgotten historical tunnel named by the local ethnic people as the A Xoo Tunnel.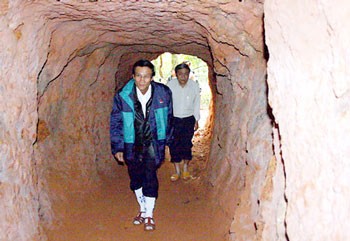 The 'A Xoo Tunnel' in Quang Nam Province. (Photo: Sggp)
Located in A Nong Commune of Tay Giang District this tunnel was built in 1968-1970 by soldiers and the K'tu ethnic people as a hiding spot, a place to store food and weapon caches and serve as a temporary hospital during the American war.
This 100 metre long tunnel runs through the mountain and has seven off shoot tunnels.
Some sections of the tunnel were damaged during the "carpet bombing" by American troops.
A Lang Dan, chairman of the Tay Giang War Veteran Association, was one of the people who took part in building the tunnel. The Tay Giang authorities rediscovered the historical tunnel and have restored it in many damaged places.
Now, the tunnel has become a historical site for schools in the district who take students there on field trips, in the hope of imparting knowledge of past revolutionary heroes to the younger generation.
Efforts are also being made to advertise the site so that more national and international visitors can view this culturally historical site in future.