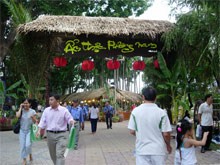 "The Southern Tasty Food", one of cultural activities in "Tourism Day" in Dam Sen Park. (Photo: KK)
The second Ho Chi Minh City "Tourism Day" ended on April 23, 2006. In three days, there were more than 100,000 visitors who came for travel information and book tours from travel agents.


It is an opportunity for tourist companies to publicize their brand names, as well as offer tours to visitors.
In the closing ceremony, representative of the Ho Chi Minh City People's Committee gave certificates of merit to Phu Tho Tourist, Dam Sen Park, the Southern Regional Office of Viet Nam Airline Cooperation, the Sai Gon Giai Phong Newspaper, Ho Chi Minh City Television, the Ho Chi Minh City Viet Nam Television Center, Trade and Tourism Departments of 10 provinces and cities. They have actively participated and contributed to this event.
Related articles:
-Tours on Special Offer in Tourism Day