Mr. Peter Grove and Mrs. Kate Goswell (from UK), arriving on Vietnam Airlines flight 120, became the first foreign tourists to step foot in Vietnam on the first day of 2012.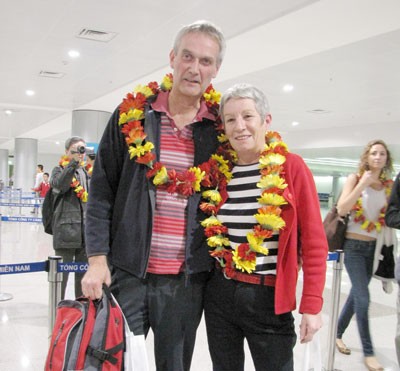 Mr. Peter Grove and Mrs. Kate Goswell (from UK), arriving on Vietnam
They were among 287 other tourists from Germany and 256 from UK who were welcomed at Tan Son Nhat airport in a ceremony organized by the HCMC Department of Culture, Sports and Tourism.
This is the first time they have travelled to Vietnam, "we consider Vietnam as one of the most crucial tourist oriented markets to woo," they said.
Their tour will take them from HCMC to the central city of Nha Trang and then to the Northern Provinces.
In an interview with Saigon Giai Phong, La Quoc Khanh, Vice Director of HCMC Department of Culture, Sports and Tourism unveiled his agency's ambitious plan to tap into the overseas market this year, and draw the attention of many tourism and media agencies from neighboring nations, including holding direct meetings, tour and sale programs, to launch new products and services at home.
At the recent International Travel Expo in the city, the HCMC Tourism Association took the occasion to introduce the city's culture to overseas customers, held many promotional activities, including performances at the HCMC Municipal Theater and beverage and food promotions under the slogan "HCMC - 100 wonderful things".
Many outbound tours included promotional free offers and all services ranging from transport to restaurants and sightseeing were combined as convenient package deals for visitors, said Khanh.
On the first day of the year, Saigon Tourist also welcomed Russian tourists who came to visit Nha trang Bay via HCMC, besides others who came from China, US, Hong Kong (China).
On the same day, cruise-liner Spuer Star Aquarius brought 2,000 foreign tourists for a visit of Ha Long Bay.
Each year, many foreign travel agencies have come knocking on the local tourism market, becoming more aware of Vietnam's great potential.
It is expected that on the first day of 2012, Viet Travel Tourism Company will receive three delegations of Japanese tourists (one in HCMC, two in Hanoi) on a discovery of famous Vietnamese beauty spots.
According to Nguyen Minh Man, from Viet Travel Tourism Company, Japanese travelers are drawn to the Vietnamese landscape.
Vietnam is one of Japan's favored tourist destinations with some 1,000 visitors arriving each month and this figure is projected to rise 9 percent this year, said Man.
The tourism sector is helping the country overcome its present economic challenges. In 2011, the tourism sector attracted 6 million international tourists and served 30 million domestic tourists, earning a net VND 130 trillion.
The sector has set goals for 2012 to receive at least 6.5 million foreign visitors, an 8.3 percent increase compared to 2011, and serve 32 million domestic tourists, a 6.67 percent increase, earning VND150 trillion in 2012.