Since the last few years, the number of tourists registering for tours had increased sharply but this year the numbers have dwindled, casting a gloomy shadow over the tourist industry.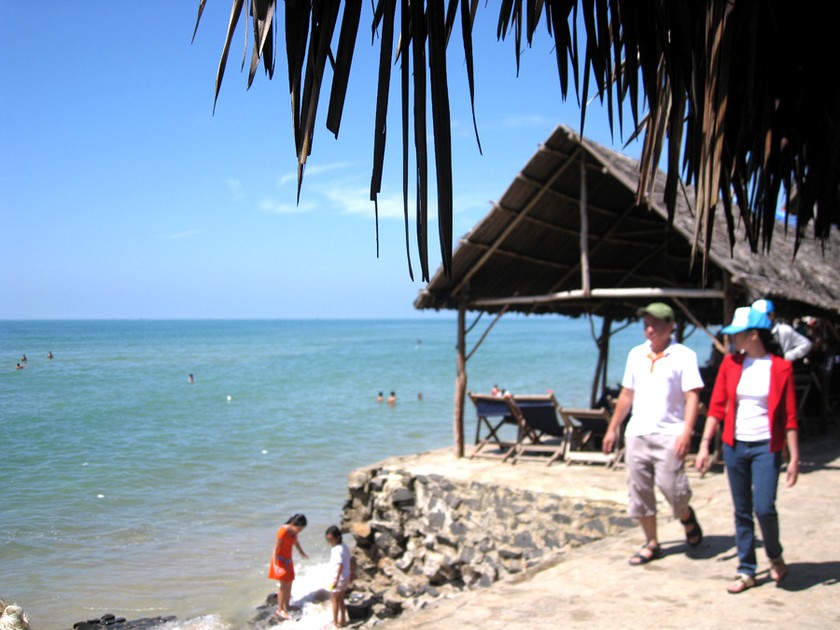 Ho Coc (Coc lake) Beach with its turquoise water has become a popular tourist spot in southern province of Ba Ria-Vung Tau. (Phpto:Thanh Huong)
The National Unification Day and Labor Day (30/4 & 1/5) holidays are peak time for many tourist agencies, but this year people are cutting costs, living economically and coping with inflation by avoiding unnecessary expenses.
High price tours
Tourist agencies in Ho Chi Minh City have only two weeks before the holidays and the tourists are nowhere in site. The number of tourists registering for tours have reduced compared to the same period last year.
Although many agencies were preparing to increase their tour prices, the petrol prices increased so rapidly that agencies were caught off guard.
When petrol prices increased by VND2, 900 for the first time in February, tour prices increased by 10-15% since Tet season. However, when petrol prices increased for the second time in the beginning of March, tourist agencies began to feel the pressure.
According to calculations made by tourist agencies, with the second petrol price increase, tour prices need to increase from 25-30% as compared to the prices during Tet season.
The price hike immediately affects land tours though airfares have not increased yet.  However, airfares are expected to increase by 20% by the end of April.
Faced with a situation, tourist agencies propose to reduce value added tax and offer discount air tickets to attract more people to register for tours.
Fewer tourists buying tours
Increasing price hikes have had a negative impact on the market, especially for the coming holidays of National Unification Day and Labor Day (30/4 & 1/5).
Until a few years ago, people came to register for tours quite early. Many tours had to close their bookings one month before the holidays. However, with higher inflation tour companies will not be able to meet their targets this year. The tourism market is expected to slump.
Tourist companies are anxiously awaiting customers and hope their numbers increase at the last moment.
Hoang Minh Tien, director of Hanoi tourist southern branch, said customers tend to choose short-distance tours, either to neighbouring countries or domestically for brief trips like Ho Chi Minh City to Mui Ne and Vung Tau, which are low cost tours. Many customers are even cutting costs by travelling on their own, he added.