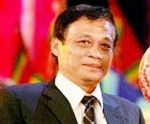 Deputy Minister Tran Chien Thang
The Ministry of Culture, Sports and Tourism on Tuesday assigned deputy minister Tran Chien Thang as chief of the Vietnam National Administration of Tourism to replace acting chief Nguyen Quoc Ky.
Under the decision, issued by Minister Hoang Tuan Anh, Mr. Thang still holds his current position as deputy minister. Mr. Ky became a deputy chief of the tourism administration.
Mr. Ky had earlier resigned from the position of acting chief of the authority.