The tourism sector has shown signs of recovery with a sharp increase in the number of people booking tourist services, especially local tours, on the anniversary of the Reunification Day, April 30, and May Day.
Hotels and guest houses at famous tourist resorts nationwide have been fully booked for over a month. Hong Gai Tourist reported a rise in holiday-makers of 120 percent year on year while Lua Viet Tour said its booking had increased by 50 percent and Ben Thanh Tourist by 20 percent.

The head of Vietravel's Hanoi Research and Development Section, Duong Mai Lan said that the number of domestic tourists has contributed to this sharp rise.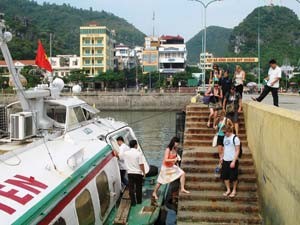 Foreign tourists visit Cat Ba Island off Hai Phong City in the north (Photo: Tuong Thuy)
In addition, a large number of attractive and unique tourism programmes have been offered to capitalize on the four-day holiday, she added.
Vietravel is expected to cater for around 5,000 domestic tourists and 2,500 overseas visitors during this period, said Lan.
According to statistics from a number of travel agents, the number of booked overseas tours has risen by between 10-15 percent and Vietfoot has reported that most of its overseas tours are fully booked and up by 40 percent year on year. This could be put down to attractive air fares and other promotional programmes offered by airlines.
Hong Kong, China, Singapore, Malaysia, the Republic of Korea and Australia are popular destinations for this holiday period.
Saigontourist said its Hanoi branch is currently offering 20 different tours to Singapore, China, Thailand, Cambodia, the Republic of Korea, Japan, Africa, Egypt, Europe and the US. At the same time, Vietravel is offering a four-day tour to explore the RoK at the attractive price of 870 USD per person.
The head of Vietnam's Tourist Administration's Travel Department, Vu The Binh said that this economic sector is recovering faster than previously forecast.