Nine tourism projects under construction at the Nhon Hoi Economic Zone in Binh Dinh Province have now been shelved, as local authorities and residents have become impatient with their slow progress.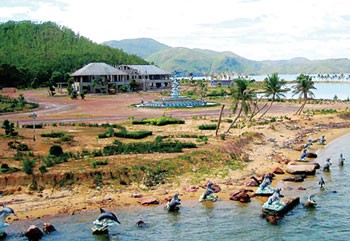 A tourist complex under construction on Thi Nai Lagoon.  (Photo: Sggp)
The projects were all worth a total of VND15, 400 billion (more than US$730 million).
The Vinh Hoi tourism complex, a 100 percent foreign-invested project, was licensed in December 2006.
The first phase of the project, covering an area of 325 hectares, was to be built with an investment capital of US$250 million. Vinh Hoi tourism complex was to include a five-star resort hotel, a conference center, an 18-hole golf course, a sporting complex and an eco-tourism preservation site. This luxurious eco resort is expected to be fully operational by 2014.
However the investors, Viet My Tourism and Hotel Company, have received only 135 hectares of land and have already spent VND76.33 billion (US$3.6 million) on construction.  Many key works could not be implemented due to problems of compensation and site clearance.
The 650-hectare Hai Giang Tourist Complex by Hai Giang JSC has already spent VND23.7 billion (US$1.1 million) from its total capital of VND3.4 trillion (US$163 million) on building a road leading to the complex, since the construction began two years ago. As planned, the tourist complex should open in 2015.
Another project worth VND390 billion (US$18.5 million) by the My Tai Company on Trung Luong Tourism Site, has built a hedge and four villas since the construction began four years ago.
Progress on many projects such as the Linh Phong Pagoda and the Vietnam Pearl Complex has been stalled, due to slow construction progress.
Most of the projects faced difficulties in clearing the ground space, high bank loan interest rates or lack of capital, said Nguyen Ngoc Toan, deputy chief of the Economic Zone Management Board in Binh Dinh Province.
The provincial people's committee has asked the Nhon Hoi Economic Zone to cooperate with local authorities to speed up site clearance work, handing of compensations and relocation of residents, to create favourable conditions for investors.
The province government will also revoke licenses of projects if investors are too slow in implementing these projects, the deputy chief added.