The first stage of the Viet Nam Ethnic Culture and Tourism Village will begin operation in 2010 and the remaining stages will be completed by 2015.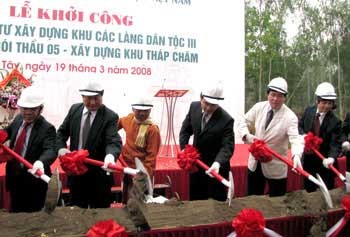 Work began on the Culture and Tourism Village last year.
The village will be a living exhibit, depicting the daily life and customs of all of the 54 peoples in the nation. Construction began in Dong Mo district in the northern province of Ha Tay last year.

Covering an area of 198 hectares, the village will recreate the daily activities of local inhabitants, including the manufacture of tools and handicraft products and wet-rice cultivation.

It will also provide a glimpse into the culture, traditions and religious architecture of the 54 peoples and act as a gathering point for local festivals and sport activities.

More than VND3.2 trillion (over US$200 million) will be spent on the national culture and tourism project.