Mu Cang Chai district's Culture and Tourism Week was launched on September 25 in the northern mountainous province of Yen Bai, attracting a large number of local residents and tourists.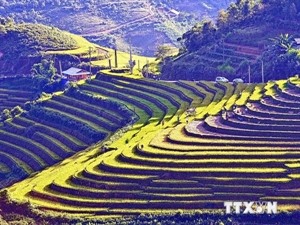 Terrace fields in Mu Cang Chai (Photo: VNA)
The tourism festival is organised during the rice harvest season between September and October each year, in a bid to honour the stunning beauty of the national heritage of Mu Cang Chai's terraced fields and the unique cultures of ethnic groups in the district. It is also expected to increase public awareness of the value of historical preservation and strengthen tourism linkages in Vietnam's northwestern region.
This year's festival hosts a series of events, including a mobile cinema and library; tours of the terraced rice fields; fashion shows showcasing traditional costumes; displays of traditional tool-, wine- and instrument-making processes; rice cake pounding; and brocade weaving.
Visitors can also visit a mountainous fair with 14 stalls selling local products and specialties, such as rice cakes and traditional herbal medicine made by the ethnic H'mong people.
The culture and tourism week running until September 30 marks the 57th anniversary of the founding of Mu Cang Chai district (October 18, 1957) and World Tourism Day (September 27).
Mu Cang Chai is one of the most popular destinations in the northwest, for both domestic and international tourists, due primarily to the spectacular beauty of its terraced rice fields, which have been cultivated by the H'mong people for centuries.
The fields are visible from virtually everywhere in the district, covering an area of over 2,200ha. The 500ha of fields surrounding the villages in Che Cu Na, La Pan Tan and De Xu Phinh communes were recognised as national heritage sites in 2007 by the Ministry of Culture, Sport and Tourism.-VNA