When the moon is full the old quarter of Hoi An on the central coast is full of foreign vacationers keen to enjoy the town's tranquil atmosphere. No motor vehicles are allowed in the streets and only decorative lanterns light up the private homes at night.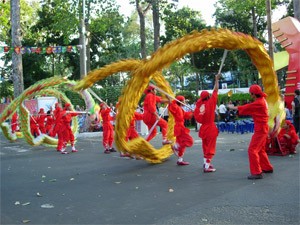 There's always dragon dance at festival(Photo:H.Y)
The most important time is the fifteenth day of the first lunar month. This is the day of the Xo Co Festival, a tradition imported by Chinese businessmen in the seventeenth century and celebrated mostly in the homes of Hoi An's many ethnic Chinese residents.
It's an afternoon affair and mainly involves worshipping and entreating the gods with offerings of cake, sweets, new clothes, rice and paper money.

When the formal proceedings are over, the devout rush to the altar to grab the objects of worship and take them home in the hope that they will bring good luck.

Of course there's lots of kylin, lion and dragon dancing, which is also believed to bring luck and happiness, along with enthusiastic folk singing and traditional games.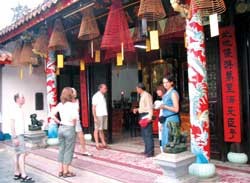 Foreigners return to Hoi An several times to enjoy the tranquil and peaceful atmosphere there
Then on the next day, the Chinese residents pay homage to their ancestors and pray for peace and prosperity.

Besides the festival, most tourists in Hoi An also put the town's old temples on their itinerary.

The benefits of no electric lights and no motorcycles are obvious. Only decorative multi-colored lanterns shine in front of each house and in the boats on the Hoai River.

It's serene to walk along the narrow lanes past centuries-old homes, watching old men playing chess or drinking tea.
It's so interesting that many tourists return to Hoi An several times to soak up the atmosphere.