The historical relic site of Phu Quoc prison has so far this year welcomed over 75,000 visitors, including 3,400 international arrivals.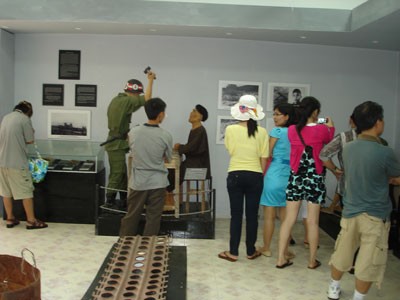 Tourists take photos and watch pictures to display activties of prisoners in Phu Quoc prison in war time (Photo: Cat Tuong )
Phu Quoc prison is one of the most popular destinations for visitors when they set foot on Phu Quoc Island in the southern province of Kien Giang.
During the wars of resistance against French colonialists and US imperialists, many Vietnamese revolutionaries were detained and tortured in the prison, some 4,000 of whom lost their lives there.
The prison has since been named as a heritage site and its twelve sections have been restored. Many now preserve historical evidence of the atrocities that took place in the prison.
The restoration and decision to open the site to visitors benefits historical research and ensures that the heroic prisoners will never be forgotten.