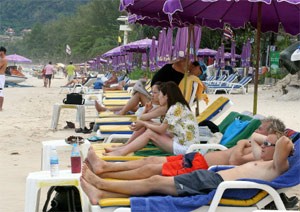 Foreign tourists enjoy a sunny day at Thailand's famous Pathong beach in southern Phuket Island, September 21, 2006, two days after a bloodless military coup.
Vietravel and Fiditourist, two of the biggest travel agencies in Viet Nam, have temporarily halted tours to Thailand from today.
In Viet Nam, over 150 people have shelved their flights to Thailand due to the unstable situation there.

The Vietnam Airlines office in Ho Chi Minh City speculates that the carrier might face difficulty if would-be passengers continued canceling their flights.
On the other hand, Saigontourist Travel Service in Ho Chi Minh City is maintaining its tours to Thailand, but some of their bookings have been cancelled too.

The price of tours and flights to Thailand has dropped dramatically since the coup was launched and a package deal now costs only US$285 and a return air ticket US$130, or 30 percent less than a few days ago.
According to the travel companies, more than 200 Vietnamese tourists were in Thailand when the coup began. Some of them arrived on Wednesday morning, just hours after the political turmoil erupted.
Vietravel says it is maintaining day-to-day contact with Vietnamese tourist guides in Thailand and has been informed that the situation in Bangkok is stable.
Banks and schools are closed but the airport, shops and entertainment centers are staying open for business as usual.
This morning, crowds of demonstrators gathered in front of the royal palace and the prime minister's office in Bangkok, forcing a halt to the popular tours of the palace and causing travel agencies to keep their clients away from central Bangkok.