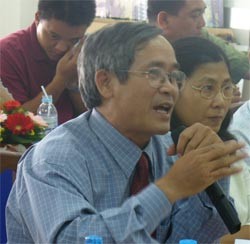 Trinh Quang Ham, Director of the Viet Nam Tourism Corporation
We must understand clearly that what we own is merely the city's "tourism resources" and we have to put more efforts to turn it into the so-called "tourism products", which include the hotel services, the transports for tourists, standard tourism points, the city's people, security and tidiness...
A pending problem of the city's tourism is that most of the local products are diversified but of poor quality or fail to meet the actual demand of international tourists. Some of my customers complained that they could buy the same product at a lower price in the neighboring countries such as China and Thailand.
Visitors to Viet Nam in general and to the Ho Chi Minh City in particular expect more activities in which they can participate in rather than just stand beside and take photos. These activities obviously require a huge investment and direction from the local authorities because a single agency, even a giant like Saigon Tourist or BenThanh Tourist, can not organize them on their own.
Besides, there are few amusement parks in the city. Suoi Tien and Dam Sen cultural parks are currently considered the city's prides. However, the fact is that the international visitors are not interested in these places. Our other tourism points in the city are rather small in size, or else, applying the familiar technologies from many foreign countries and thus fail to satisfy the visitors who are interested in something new.
Last but not least, the city's infrastructure needs much improvement if it wants more visitors to tour around the city by buses. Currently, there are high taxes on imported cars or buses to serve in tourism transportation, which caused a difficulty to tourism agencies who want to expand the city-tour bus service.
Related links: