Some adjustments to the train schedule will be made to match the travel demand in 2006 summer, announced the Saigon Railway Station on May 14.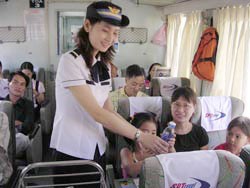 Passengers on the Ho Chi Minh - Phan Thiet rail route are served.
Accordingly, the D2 train to Da Nang station will depart from the Ho Chi Minh City at 8:55 AM everyday, while the Ho Chi Minh – Nha Trang route Thong Nhat trains, coded TN2, TN4, TN6, will start everyday at 20:15 PM, 17:25 PM, 21:05 PM respectively.
SPT2 train to Phan Thiet Province will depart daily from Saigon Railway station at 6:45 PM.
From May 21, the Viet Nam Railway Corporation (VNRC) will launch two North-South route Thong Nhat trains, coded TN7 and TN8. These trains will depart from Ho Chi Minh and Ha Noi stations at 19:50 PM everyday and arrive at 10:00 AM, taking 40 hours.
According to the VNRC, there will be also some adjustments to train fares in 2006 summer.
Fares of some air-conditioned carriages will increase by 5-8%. From May 21 to August 15, fares on trains coded SE1 and SE2 will be the same as SE5, SE6.
Particularly, TN1 and TN2 trains will continue to offer its fare discounts of 10% until August 16 instead of May 31 as in its previous announcement.
Besides, D1 and D2 trains will not stop at the Phu Cat Railway Station of the Binh Dinh central province from May 21.
Related link: