Sài Gòn Railway Transport Joint-stock Company will reduce ticket prices on some railway routes: Vinh-Sài Gòn ; Sài Gòn-Quảng Ngãi-Sài Gòn; Nha Trang-Quy Nhơn-Nha Trang, Đỗ Quang Văn, the company's director has said.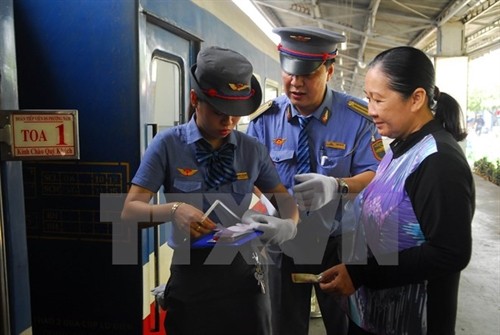 Railway staff check a passenger's ticket.— VNA Illustration photo
From May 26 to June 30, the ticket price for Nha Trang central coastal city-Quy Nhơn Province and its return route will be reduced by 10 per cent, the official said on Thursday.
From June 1 to 30, passengers on SE21 train to Sài Gòn from Vinh central city's station will see reductions of 5 per cent while ticket price reductions of 10 per cent will made on SE26 and SE25 trains on routes: Sài Gòn-Quảng Ngãi-Sài Gòn on some fixed days in the week, according to Văn.
Passengers of the SE26 train departing from Sài Gòn station to Long Khánh every Thursday and Friday, and those of SE25 train from Quảng Ngãi to Sài Gòn on Saturday and Sunday will have ticket prices slashed by 15 per cent. 
The company will also adjust the ratio of reductions to some underprivileged passengers including war invalids, the elderly and students.
Tickets for the elderly (above 60) will drop by 15 per cent (compared to 20 per cent previously) and those for children (between 6-10 years old) will drop by 25 per cent (50 per cent previously).