The attractions of Singapre, Thailand and Malaysia are being made more attractive with discounted tours offered by Ho Chi Minh City based SPSC Tour to mark the company winning Vietnamese Brand Name Award by Sai Gon Giai Phong Newspaper.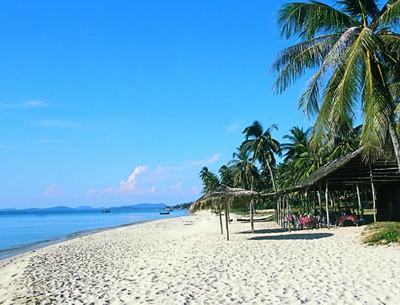 Nha Trang Beach is one of attractive destinations for tourists.
The annual award is based on readers' selection.
SPSC Tour's Singapore offer, including a trip to the Universal Amusement Park, airfare, hotel costs just VND6,350,000 (US$317.5).
A seven-day tour of Malaysia and Singapore would cost just VND8,280,000 (US$414), the company has announced.
One of the most attractive tours is a six-day Thailand tour that costs just VND4,420,000 (US$221). Offered on the occasion of the National Day (September 2), the tour includes the popular Pattaya beach and a wide variety of temples.
China is also featured in the special offers.
A five-day tour to Shanghai – Wade-Giles – Suzhou – Jiangsu costs VND6,157,000 ($308) while seven-days in Beijing costs VND11,754,000 ($588).
SPSC Tour also is offering lower prices for a four- day Beijing tour at VND7,315,000 ($366) which includes the Great Wall of China and other tourist attractions.
Korea and Japan are other countries that are featured in the discounted tours. A six-day tour to Korea is priced at VND16,482,000 ($824) while a similar visit to Japan (Phu Sy mountain) costs VND38,000,000 ($1,900). These promotional prices are offered only on the occasion of the National Day.
Tourists can also enjoy the spring season in Hanoi for VND5- 8 million (VND250 – 400) including airfare, hotel.
A four-day Hanoi – Sapa tour for VND4,948,000 ($250) is one of the inbound tour options.
For more information, visit www.spsctour.com.vn or call: 08. 38239447 or 08. 38235412.