Travel companies are offering huge promotional programmes and discount incentives of upto 30-40 per cent to lure travellers during this difficult economic time.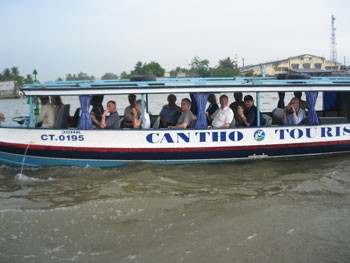 Tourists visit the Mekong delta city of Can Tho. (Photo: KK)
According to Mr. Tran Doan The Duy, deputy director-general of Vietravel Company, people have tightened spending and spend less money on travelling. The market needs a tourism promotion campaign for this summer season. Vietravel has cooperated with local and foreign partners including airlines, restaurants, hotels and transport enterprises to launch a discount of 30-35 per cent on domestic tours and 20 per cent on foreign tours. The company expects to receive 70,000 local tourists and 40,000 international visitors this summer.
Vietravel has also launched a promotion called "Enjoy summer-drive car freely" from May 16 to August 13. Accordingly, customers will have chances to win gifts, Honda Vision motorbikes and a Kia Morning car.
Saigon tourist, the country's leading travel company has offered new travel packages such as budget IKO travel (economy) on tours from Ho Chi Minh City to Phu Quoc, Da Lat, Da Nang, Hoi An, Hue, Nha Trang, Tuy Hoa, Phu Yen, Hanoi, Ha Long, Hai Phong and Sapa.
The company has joined hand with Vietnam Airlines, VietJet Air and Saigon tourist hotel associates throughout the country to offer promotions to holiday makers who will have a chance to win cash prizes upto VND300 million (US$14,000), air tickets or other services worth VND3 million and above.
Last summer season saw a growth of visitors and a year-on-year increase of 35-40 per cent. However, the present difficult economic time has travel firms worried, especially the decrease in visitors during the April 30th holidays.
Tourist companies have to spend a large amount to build tourism promotional programmes to encourage people to travel.
The HCMC Tourism Association, Vietnam Airlines and other travel enterprises have cooperated to launch promotions in 2012 for domestic tours, said Nguyen Thi Khanh, deputy chairwoman of HCMC Tourism Association.