Many travel agencies in Ho Chi Minh City are offering various promotional schemes on domestic and international tours to lure customers, whose numbers have dropped sharply after a substantial increase in airfares and other service charges.
However, local travel agencies say that this year, despite offers of so many promotional programmes, the numbers of tourists have not increased, causing much anxiety in the travel industry.
Travel agencies offer low-budget tours
Many people have put a lid on spending for the last two years, due to the economic downturn. Therefore many travel agencies have to design economy and low-budget tours to attract clients.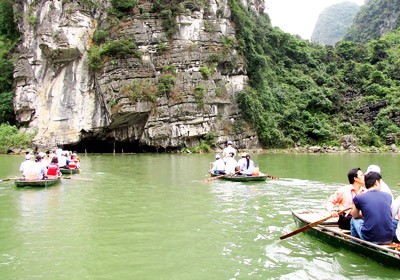 Visitors at Tam Coc tourist area in Ninh Binh Province (Photo:SGGP)
Travel firms have reported a sharp decline in the numbers of travellers. Though there are still many travellers booking tours for the April 30 holiday, the numbers are way below expectations. Many clients have enquired about the cost of tours but few have made bookings.
The numbers of tourists registering for tours for summer are quite modest, even though summer is a high tourist season. Saigontourist Travel Service Company is organising 300 domestic and international tours and expects to serve 16,000 travellers, an increase of 10-15 per cent over the same period last year.
This year, most visitors registered for short distance tours to the Central Highland region, Mekong Delta region, Dang Nang, Nha Trang, Phan Thiet and Buon Ma Thuot cities and Phu Quoc Island.
Many travel agencies have not increased tour prices, except for Nha Trang and Da Lat City by 10 per cent.
A representative of Viet Travel said that their company ties up with hotels and restaurants to offer tour prices that are attractive and competitive. The company is offering a discount of VND2 million on its northern tours, VND600,000 to VND1 million on central region tours and VND500,000 on Phu Quoc and Nha Trang tours.
Slump in inbound tours
Pham Duc Hoa, deputy head of domestic tourism in Saigontourist, said that the company's turnover in the first quarter of the year grew well, but its turnover is decreasing since beginning of April. People tend to travel by themselves or register through Free-Easy tour service, which operates within your tight budget, Hoa added.
Hoa said the tendency of cutting down spending can be seen clearly in the tourism sector. Most travellers from HCMC choose two to three day tours to Phan Thiet, Ninh Chu and Vung Tau to save money.
In previous summers, his travel firm received many orders from companies and institutions who wanted to take long tours to Hue City or Hanoi. But now many of the loyal clients have decided not to travel this year, or have chosen short tours to Phan Thiet or Vung Tau.
Meanwhile, many international tours are fully booked. Fiditour has sold 60 per cent of its international tour quota. Tours to Thailand, Singapore, Malaysia, Hong Kong and China that departed on April 27 were full.
One director of a travel firm believes that in general, the number of travellers this summer have not decreased as sharply as people think, but have chosen outbound tours instead of domestic tours.
People tend to travel abroad because outbound tours are getting cheaper.