The city's International Travel Expo 2009 is set to sail for three days from October 1, with the organizers September 16 announcing some of its pre-show activities.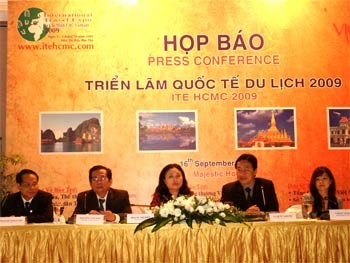 The expo's organization committee at the press conference on September 16 (Photo: Truong Son)
At the official launch at its press conference on September 16, the Tourism Alliance Awards (TAA) 2009 were introduced, which will award outstanding tourism services in three Southeast Asian countries.
 
TAA 2009 was designed to celebrate and recognize the brightest tourism stars in Cambodia, Laos and Vietnam, as the tourism industry is playing an increasingly important role in those economies.
 
TAA was co-organized by the Vietnam Tourism Association; Cambodian Association of Travel Agents; Cambodia Hotel Association; Lao Association of Travel Agents and IIR Exhibitions, with support from the Vietnam National Administration of Tourism; the Vietnam Ministry of Culture, Sports and Tourism; and the Cambodia and Laos National Administrations.
 
It marks a significant milestone that represents the commitment of the three countries to improve the quality of service in their tourism and hospitality sectors.
 
There are ten awarding categories, including Restaurant of the Year, Domestic Airlines of the Year, International Airlines of the Year, Outbound Travel Operator of the Year, Inbound Travel Operator of the Year, Spa Operator of the Year, Luxury Hotel of the Year, Business Hotel of the Year, Budget Hotel of the Year and Resort of the Year.

The list of winners will be announced at Phu Tho Exhibition Center, District 11, on October 1.
 
The end of September will kick off two other pre-show activities, including the Friendship Golf Tournament ITE HCM 2009 at Long Thanh Golf Club, southeastern province of Dong Nai, and the Tourism Investment Conference 2009 at the New World Hotel, Ho Chi Minh City.
 
The golf tournament on September 29 presents two categories, official handicap and players without an official handicap.
 
Various prizes will be awarded at the tournament including hole-in-one and longest drive.  
 
Entry fee is US$48 for members of Long Thanh Golf Club, $75 for floating members of the club and $100 for non-members.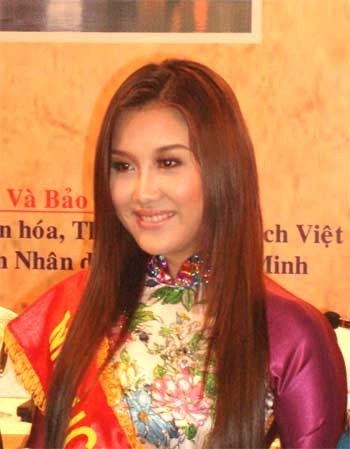 Miss ITE 2009 Ngoc Tram is guest of honor at the expo, instead of Miss Earth as last year. (Photo: Truong Son)
The two-day conference starting from September 30 will feature topics like tourism plans for the three countries; tourism investment opportunities; creating successful public-private tourism investment partnerships – the Indian experience; public private partnership in tourism investments; and attracting tourism investment and investment financing in key hospitality areas: tourism transportation and hotels and resorts.
Presentations will be given by foreign and local business experts, such as Manuel C. Menendez, chair and CEO of MCM Group Holdings and 8M8 LLC; Scott Dunn, principal and regional director of Tourism and Hospitality Asia; Sounh Manivong, director general of the Laos Planning and Cooperation Department; and Phan Huu Thang, head of the Foreign Investment Agency.
 
The travel expo will open for three days from October 1 with 150 buyers from 25 foreign countries, an increase of 48 percent in comparison with last year's expo.
 
One of the main sponsors for the expo, Vietnam Airlines, will also offer its best-ever discounts, about 60-70 percent for all its domestic and international flights purchased at its booth during the expo.
 
Only flights from October 1, 2009 to January 31, 2010 are valid for the discount.
 
ITE 2009, held under this year's banner "Three Countries One Destination (3CODe)," has been held annually since 2004 by the Vietnam National Administration of Tourism; HCMC Department of Culture, Sports and Tourism; Vinexad; and Singapore-based IIR Exhibition.

Related articles:
City to hold expo for Indochina tourism
Travel Expo becomes national event