Travelling by hydrofoil boat between Ho Chi Minh City and Ba Ria-Vung Tau Province is wrought with many dangers, as most of the boats are almost 20-years-old and badly in need of repairs and with several   serious accidents having occurred in the past.
On May 13, 2012, the Green Lines 2 Hydrofoil boat belonging to the Dong Song Xanh Company left Cau Da Harbour in the southern province of Ba Ria-Vung Tau only to break down at the Ganh Rai Bay, after crashing into the Song Chau 01 oil tanker belonging to Song Chau Petroleum Company that was anchored at the bay.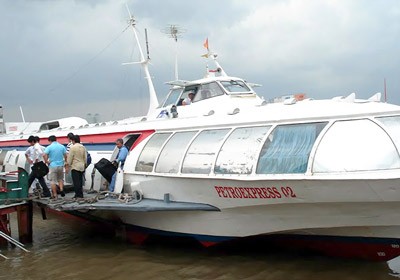 Travelling by hydrofoil boat is wrought with dangers (Photo: SGGP)
The crash caused the bow of the Hydrofoil to crack and break its glass, causing panic among the 70 passengers on board who had been scattered to seek life-jackets to wear, in case of an accident.
Another incident occurred in March 2011. The Green Lines 2 Hydrofoil boat belonging to the Dong Song Xanh Company caught fire in the southern coastal resort of Vung Tau while refueling. Fortunately, no casualties were reported.
The accident occurred when the boat was returning from Vung Tau to HCMC and stopped to refuel 400 litres of petrol enroute.
On June 6, 2011, the Vina Express 3 boat belonging to the Vina Express Company suddenly burst into flames while enroute from downtown Ho Chi Minh City to Ba Ria-Vung Tau Province. 132 passengers had a narrow escape.
Similarly, 120 passengers of the Vina Express 02 boat leaving Ba Ria-Vung Tau Province to HCMC on June 26, 2011 missed a beat as the boat lost direction and hit a sand dune under rainy weather. A power outage made the situation worse.
According to statistics from the Department of Transport, three   companies running Hydrofoil boats along the Vung Tau-HCMC route transport around one million passengers annually. 
Phan Cong Bang, head of the River Transport Unit from the Department of Transport, said there is not much left in the Hydrofoil mode of transport, what with engines constantly breaking down and risking passengers' lives, just to exploit income from old run down vessels.
Accordingly, to protect passengers, related agencies must strictly monitor the activities of these companies and conduct periodic inspections of their vessels from time to time. Any violators found breaking the law should be severely penalised.