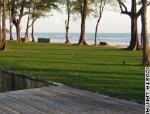 Costa Lanta has been cleaned up and is waiting for guests.
HONG KONG, China (CNN) -- On Christmas Day last year I was scheduled to fly to Costa Lanta, a 22-bungalow beachside resort in the Thai province of Krabi.
But I stayed in Bangkok one night, instead. As I walked through the city's Chatuchak markets the next morning, a friend called to say "run, there's a huge wave."
And so it was in this way I first heard about walls of water up to 30 meters (98 feet) high ramming into coastlines bordering the Indian Ocean on December 26, 2004, leaving more than 200,000 people dead or missing in a dozen countries.
I tried for a week to contact Costa Lanta, but the phone was dead, and we never went.
One year later, I wanted to find out what had happened to the resort and how it was faring. Had it survived and were tourists going back to this resort and to others scattered around the Indian Ocean?
Bangkok-based Kasma Kantavanich is one of the resort's four owners. She recounted how the guests that Boxing Day had finished breakfast and were preparing to head out to the beach and to the pool, when a 1.6-meter (5.3-foot) wave swept 600 meters inland.
The resort did not suffer any structural damage, and no one was killed or seriously injured, she said, but the furniture and infrastructure had been swept away and it took five months to clean up and landscape the resort.
Costa Lanta was one of only five hotels on Lanta island that had closed to clean up, but they were all open for business now, she said. The rest of the 200-odd hotels and resorts on the island had stayed open.
"We had a disaster, but ours (Lanta) is not to the extent you see on TV or read on the news. Phuket, Phi Phi took the blunt force of the tsunami."
Ground zero
Phang Nga province, located on the west of the Malay Peninsula, was Thailand's tsunami ground zero. This is where 80 percent of 5,395 people died, many of them as they walked, swam and rested by this normally swallow stretch of the Andaman Sea.
In the province's tourist hub of Khao Lak, 60 hotels were swept away by giant walls of water, according to Suwalia Pinpradab, Phuket director of the Tourism Authority of Thailand (TAT).
The area was so devastated that only 1,500 hotel rooms are open for business, compared to 5,520 before the waves, according to the TAT. With debris still flung about, tourists have not returned and only about 30 percent to 40 percent of the rooms are full.
"We need to have the area fully complete, which should be next year," Pinpradab says.
Le Meridien Khao Lak resort is the only international five-star hotel that has reopened after being partially destroyed by 10-meter waves last year, and managers expected the worst.
The resort reopened on October 15, and budgeted for 18 percent occupancy for November. But they got almost double that, with 30 percent of rooms full, according to Daniel Muhor, executive assistant manager.
Eighty kilometers (50 miles) south, on the island of Phuket, damage from the tsunami was limited to shallow beaches like Patong. There, water had nowhere to go but inland. Other deeper beaches, like Surin, were left unscathed.
Dubbed the "Pearl of the South," 31,868 rooms are open on this resort island, compared to 33, 236 before the tsunami struck, and Pinpradab says hotels are 80 percent full until the end of Chinese New Year, normal for this peak period.
Phi Phi island, the most popular spot on the Andaman after Phuket, is also rebounding, with 90 percent of rooms booked. But there are far fewer places to choose from as half the 2,400 rooms that existed last year were washed out to sea.
Not able to get in
Costa Lanta has been cleaned up and is waiting for guests.Costa Lanta is fully booked during the two weeks of Christmas and New Year, but the days leading up to that period and after are not. And resort owners on the island say half as many tourists are coming as last year.
"Even in town, where the boat from Phi Phi would arrive, the island is quiet," says Kantavanich, adding it's not just the tsunami's fault.
On top of high oil prices, many airlines suspended services to the affected zones never to come back.
In Lanta, 900 people used to come in and out each day on four flights from Bangkok to Krabi, now there is only one, Kantavanich says.
"People book and then have to cancel as they can't get any flights."
This is a gripe echoed by the managers at Le Meridien Khao Lak, who say they are expecting less than half their rooms to be full until mid January when people can get flights in.
"You cannot get flights to Phuket so the whole of Phuket is suffering. The airlines are letting us down," Mohur says.
Wandering spirits
Adding to travel woes -- many Asians fear the spirits of missing bodies are wandering restlessly. In Thailand alone, it is estimated that 2,817 people are still missing.
"The spirit of the deceased has not been laid to rest and that's associated with bad luck, especially for people in China, Hong Kong and Korea," says John Koldowski, director of the strategic intelligence center at the Pacific Asia Travel Association.
"It's about closure, identification, proper internment of remains, appropriate cleansing ceremonies; this could be all but resolved on the first anniversary."
Outside of Thailand, the Maldives is finding it very tough, says Koldowski, and they've not had a single month which is close to normal. In this economy which relies almost entirely on tourism, 83 people died.
While coral reefs protected some of the low-lying islands, by early December, 15 resorts were still closed while 72 were open, according to the Maldives Tourism Promotion Board.
The PATA says it will take the Maldives another year to climb out of the slump, with a rebound expected in 2007.
India is booming along with Sri Lanka, where tourist arrivals jumped 8 percent in the year until October, according to the country's tourist board. But Koldowski suspects many of those could be relief workers and diplomats staying in Colombo city.
"Out on the south coast, it's way, way down," he says of a nation where three quarters of the coastline was affected by the tsunami and 31,229 people died.
The massive quake struck off the coast of Indonesia, and estimates of the number of people killed stand at 131,338. But the area most badly hit, Aceh, was out of bounds to tourists because of a separatist conflict.
After years of bad news -- the Asian financial crisis, the September 11 attacks on the United States, last year's tsunami, this past fall's attacks in Bali and the looming threat of bird flu -- Koldowski is keeping his fingers crossed. He is optimistic that Thailand and Sri Lanka will enter their stride next year.
Back in Bangkok, Kantavanich is still fielding calls where she answers: "There's nothing to worry about -- it's clean and there's no evidence of a disaster having happened last year."