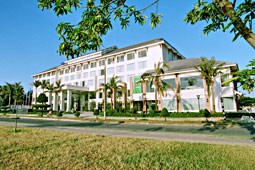 Sai Gon-Quang Binh Hotel
The Saigontourist Holding Company has opened two four-star hotels, Sai Gon-Quang Binh and Sai Gon-Kim Lien, in the central provinces of Quang Binh and Nghe An. These hotels have contributed to the improvement of tourist infrastructure and services in the area.

The Sai Gon-Quang Binh hotel facing Nhat Le River consists of 95 bedrooms, 400-seat conference hall and a restaurant. The total investment capital amounts to VND75 billion.
Sai Gon-Kim Lien is the first internationally-standardized four-star resort in Nghe An with 80 bedrooms, a 400-seat restaurant and a 500-seat conference hall.  The total investment capital is VND55 billion.
Quang Binh is an attractive tourist destination with the Phong Nha-Ke Bang world natural heritage and famous adjacent areas of ancient Hoi An, My Son sanctuary and the ancient capital of Hue.
With many monuments, pagodas, festivals and specific culture, Nghe An is a new destination which has a great potential development of eco-cultural and historical tourism.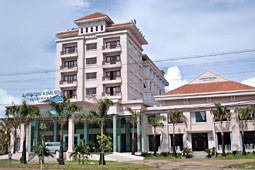 Sai Gon-Kim Lien Resort
Besides, when transportation between provinces of Quang Binh, Quang Tri and Nghe An becomes convenient, tours through the central provinces in Viet Nam to Lao and Thailand will attract more domestic and foreign visitors.

According to Mr. Nguyen Huu Tho, director general of Saigontourist, the company will internationalize and diversify its tourist products, reduce the differences of service quality between hotels and unify the standards of styles and services.