The Phong Nha – Ke Bang National Park and the Fortress of the Ho Dynasty have been put forth by Vietnam together with other 37 world-treasured sites which are proposed for inscription into the UNESCO World Heritage List as natural and cultural heritages.
Delivering the speech at the on-going session of the World Heritage Committee in Paris, Director General of the United Nations Educational, Scientific and Cultural Organisation Irina Bokova said that the 35th session will examine the World Heritage List, the state of conservation of 169 World Heritage properties and increasing challenges to the preservation of these sites.
World Heritage is a reminder of all that unite humanity, she said, adding that it is a reminder also of the ties between culture, nature and societies.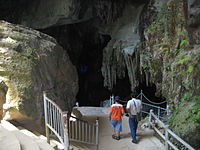 The road to Dong tien cave in Phong Nha – Ke Bang National Park
World Heritage sites can be tremendous vectors for dialogue, reconciliation, development and knowledge, she noted.
She took the occasion to call on UNESCO States Parties to focus on risk preparedness and long-term management to protect irreplaceable and priceless heritage of humanity.
Until now, the World Heritage List numbers 704 cultural, 180 natural and 27 mixed properties in 151 out of its total 187 States Parties
Two more Vietnam heritages expect UNESCO recognition.
The forerunner of Phong Nha - Ke Bang National Park was the Phong Nha Natural Reserve formed in 1992. The Phong Nha Natural Reserve was one largest special use forest with an area of 41,123 ha. Then Phong Nha - Kẻ Bàng National Park was established under the Decision No 189/2001/QD-TTg dated December 12, 2001 by the Prime Minister. The National Park was be inscription on the World Heritage List at the meeting 27th of the World Heritage Committee - UNESCO in Paris frome June 30th to July 5th 2003 on Criterion (viii) (former Criterion (i)- Earth's history, record of life, landform processes and features).
Phong Nha – Ke Bang National Park is located in the middle of the Annamite Mountain Range, 40km from Dong Hoi city, 500 km from Hanoi Capital, and close to the Vietnam - Laos border to the west. Phong Nha - Ke Bang shares its boundary with Hin Namno Nature Reserve, PRD Laos to the west, Minhhoa district to the north, Botrach district to the east, and Quang ninh district to the south. Geographical coordinates : N 17021'12" to 17039'44", E 105057'53" to 106024'19".The area of the National Park is 85.754 ha. The site is devided into 03 functional regions: the strictly protected region: 64.984 ha, the ecological rehabilitation areas: 17.449 ha, the administration service areas: 3.4114 ha.
Phong Nha - Ke Bang is a central biodiversity of Greater Annamites Eco-region, which has been identified as one of two hundred biodiversity centers in the World (WWF, 2000). In addition, Phong Nha - Ke Bang have been identified as two of more than sixty Important Bird Area of Vietnam by BirdLife International (2005).