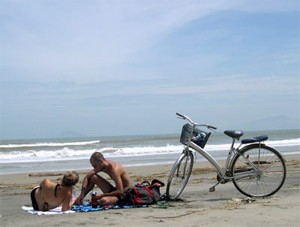 Two tourists sunbathe in Hoi An on Monday
The Ancient Town Hoi An showed its ability to quickly recover by celebrating the lantern ceremony yesterday. Two hundred and ninety tourists attended the ceremony.
With the support of Quang Nam Province's authorities, the 5-star Palm Garden Resort's damages caused by the Typhoon Xangsane were repaired in time for 130 Spanish tourists to check in yesterday.
Having already heard of the havoc wreaked, these travelers were still excited to visit the city and entirely satisfied with 60 deluxe rooms reserved for them.
"Many more tourists are currently coming to Hoi An. Resorts and coastal restaurants have already re-opened. Encouragingly, most travelers who came to town before October 1st still want to stay here," said Nguyen Duc Hai, chairman of the Quang Nam Province People's Committee
"However, we find ourselves in a very difficult situation to recover the tens of households in local areas around Hoi An that were hardest hit by the typhoon. The cost of repairing the hundreds of schools in the province is already over a million US dollars, while the government's support is initially worth US$625,000," added the chairman.
Responding to the correspondent's questions about the TMM, Nguyen Su, Hoi An's party committee secretary, said: "If repairs continue going smoothly, I can ensure that the APEC Tourism Ministerial Meeting will be held in Hoi An on Tuesday."