United Airlines, the only American carrier to operate a daily direct flight between Viet Nam and the US via Hong Kong, is offering promotional fares from August 7 to 27 to fly from Ho Chi Minh City between September 3 and November 30.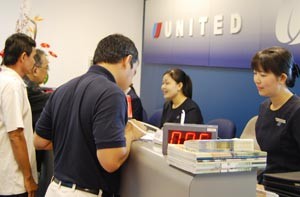 Passengers at the United Airlines booking office in Ho Chi Minh City (Photo: T.T)
The fare for a round trip from HCMC to Hong Kong starts at US$178, and the lowest fare to fly to the US is US$855. The prices do not include taxes and fees.
At present, the taxes and fees for a round trip to Hong Kong total US$94, and those for the US range from $380 to $410 (including fuel surcharge).
In related news, United Airlines has announced the appointment of Mr. Joe Mannix as General Manager for Thailand, effective on July 15. Ms. Clodelsa Ty replaced him as General Manager in Viet Nam.
At present, the Ho Chi Minh City-Hong Kong route is served by Vietnam Airlines, Cathay Pacific and United. A few days ago, Cathay Pacific subsidiary Dragonair announced it would launch a Hong Kong-Ha Noi route in October to meet the growing demand. Starting on October 26, Dragonair will supply the daily service using Airbus A320s.