The Vietnam National Administration of Tourism is organizing several tourism events starting early in the Year of the Golden Pig, among them National Tourism Year 2007 in Thai Nguyen, a festival in Ba Ria-Vung Tau, and "Back to the Source" in the northern provinces of Lao Cai, Yen Bai and Phu Tho.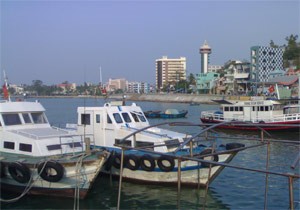 Vung Tau City  (Photo: KK)
Thai Nguyen Tourism Year 2007 opens tomorrow with an extravaganza of entertainment in the province's main city, also called Thai Nguyen. Among the many activities on offer are new tours to historical sites and a special festival to promote Thai Nguyen tea, Vietnamese tea brands and tea-drinking in general.
Ba Ria-Vung Tau's tourism event will run from February 24 to 26 and open with cannon fire followed by announcements of investment projects and a music concert at Cape Nghinh Phong. Other activities will take place in the town of Vung Tau and elsewhere in the coastal province.
The organizers hope the event will attract a large number of visitors and give prospective investors a better idea of the region's tourism potential.
"Back to the Source" gets underway in Lao Cai on March 3 and has plenty to offer like the Thuong Temple Festival on March 4, Le Hoi Tren May (in the clouds) Festival in Sapa on April 14, which includes a race up Fansipan, the tallest mountain in Indochina, and the Vietnam-China International Trade Fair on May 1 and 2.
Yen Bai will host the Dong Cuong Temple Festival on March 10, a tour called Discovery of Thac Ba Lake on April 30, the Muong Lo Cultural Week from October 15 to 20, the Nam Cuong Temple Festival on March 4 and other events.
In Phu Tho, the third province participating in "Back to the Source", will be the Au Co Temple Festival from February 22 to 24, the Bach Hac breaststroke races on the Lo River on February 25 and 26, the Hung King Temple Festival from April 22 to 26, and the 50th anniversary celebrations of the Lo River Victory on October 24, among others.
The organizers are confident of drawing more than one million visitors to the event in the country's far north.