The Tourism Department of Ho Chi Minh City and the United Airlines in Viet Nam will jointly cooperate to organize a survey of Viet Nam tourism for U.S's travel agents in 2007.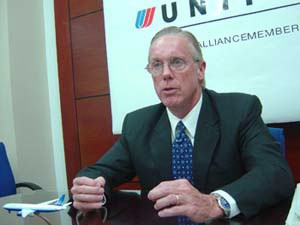 Mr. Joe Mannix, director of the United Arilines in Viet Nam
"Only good travel agents which are really interested in the Vietnamese tourism market will be invited", Mr. Joe Mannix, director of the United Airlines in Viet Nam, said.
The United Airlines has also cooperated with Vietnamese hotels and travel companies to organize special tours for U.S visitors.
The promotion of Vietnamese tourism with the slogan "Viet Nam-the hidden charm" and its world leading beautiful beaches have not appealed to U.S visitors yet. The Vietnamese tourism should have better advertising strategies focusing on top travel groups, Mr. Joe Manix added.
If we can persuade leading multinational travel groups to send their visitors to Viet Nam, they will invest in the construction of hotels and resorts and promote destinations of Viet Nam to international tourists, manager of Ben Thanh Tourist' Ha Noi branch Luu Duc Ke judged.
The United Airlines is now the unique airlines serving seven direct flights a week from Ho Chi Minh City to Chicago and San Francisco in the U.S. by Boeing 747-400.
According to the Vietnam National Administration of Tourism, the number of U.S visitors to Viet Nam from the beginning of the year to October was 322,329, a year-on-year increase of 17 percent.