US filmmaker Buddy Hatton has filmed a travelogue entitled "Viet Nam: A Land of Surprises". The movie will be aired on US television on the   "Kiwanis Travel & Adventure Film Series" show, a production of the Travel Adventure Cinema Society (TACS).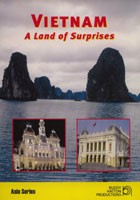 "Viet Nam: A Land of Surprises" DVD
The documentary explores the "incredible diversity" of Viet Nam, described as being "fast, slow, traditional, cutting edge, exotic, and familiar."
The film presents a kaleidoscopic view of the many faces of Viet Nam including Ho Chi Minh City with its myriad markets, shops and sidewalk cafes; beautiful sites in the waterways of the Mekong Delta; magnificent beaches in Nha Trang and Da Nang; picturesque narrow streets in Hoi An city; breathtaking ocean and mountain scenery in the Ha Long Bay area and the classic charm of Ha Noi.
Mr. Hatton owns a small film studio in San Francisco. He was twice awarded the Canadian television "Male Entertainer of the Year".

With his love for exploring new places and extensive experience behind the camera, he is considered one of the world's leading travelogue producers.