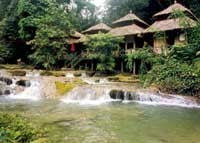 Toursim points in the northern mountainous provinces of Viet Nam needed more invesment. 
The Vietnamese government will continue to pour US$1.5 billion into the construction of tourism infrastructure up to 2010, according to a recent announcement of the Vietnamese Ministry of Planning and Investment.
Top priorities will be given to projects in localities most popular with tourists and potentially tourist attraction, particularly in the central and central highland regions, and in remote and disadvantageous areas.
208 tourism infrastructure projects were already under way in 62 provinces and cities in the 2001-2005 period at a total cost of over VND2.1 trillion (roughly US$134.9 million). To date, 155 projects have been finished and brought into operation.