A massive campaign to garner more votes for Ha Long Bay as one of the world's new seven natural wonders was officially launched Sunday at Ha Noi's Sheraton Hotel, which was decorated for the occasion as a miniature Ha Long.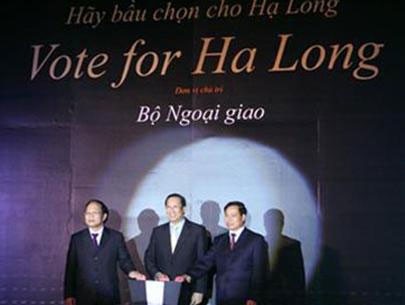 Deputy Prime Minister Pham Gia Khiem (C) attends the launching ceremony at Sheraton Hotel December 23
The event was attended by Deputy Prime Minister and Foreign Minister Pham Gia Khiem and Minister of Culture, Sports and Tourism Hoang Tuan Anh, as well as leaders of Quang Ninh province, diplomats and business leaders.

Tho said campaigns for the Ha Long Bay should help the world heritage site in its competition for the title and boost the nation's image abroad, especially its culture and traditions.

DPM Tho called on each and every Vietnamese, at home or abroad, to cast their vote(s) for Ha Long Bay as one of the world's natural wonders.

Quang Ninh People's Committee Deputy Chairman Nguyen Hong Quan said the province has set up a special committee for the Ha Long Bay campaign.

The ceremony was highlighted with an auction of a 6-liter carafe of Hennessy "Mathusalem". The final hammer hit on a €25,000 (almost VND584 million) bid for the intricately designed XO decanter from Tan Tao Group CEO Dang Thanh Tam. The amount was added the amount to the campaigning board's budget.

The Hennessy X0 Mathusalem is one of just 300 launched worldwide.

The Construction Informatics and Consultancy Joint-Stock Company offered its voting software for Ha Long Bay campaign to Viet Nam's UNESCO Committee.

According organizer NewOpenWorld, voting for nominees will continue until December 31, 2008, and the shortlist of the 21 candidates will be announced in January 2009. Those will then go on to the next stage of voting.