Viet Nam Airlines has announced a "Free & Easy" promotion to many destinations comprising a round-trip ticket, two nights' hotel accommodation with breakfast, and airport transfers.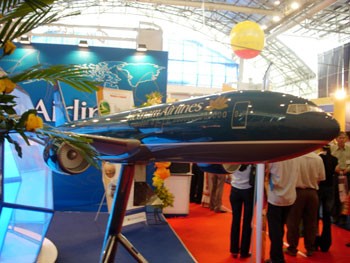 Viet Nam Airlines has launched a big promotion from now until the end of this year. (Photo:KK)
A three-day trip from Ho Chi Minh City to Thailand costs US$229 and to Singapore $239. From Ha Noi they cost $199 and $209.
A three-day "Free & Easy" trip to Hong Kong costs $339, to Malaysia $239, and to Guangzhou in China $349.
The national carrier also offers a three-day trip to Beijing for $490. Passengers from Da Nang, Hue, Nha Trang, and Da Lat have to pay an additional $50.
The prices exclude tax and other charges and are valid until December 31.
The airlines has also launched other promotions on local and international routes through December 12. 
A round ticket from Ho Chi Minh City to Bangkok costs $178, and from Ha Noi US$100. From HCMC, it costs $188 to Singapore and $200 to Kuala Lumpur.
At home, the round fare from HCMC to Ha Noi on flights departing after 6 p.m from HCMC and at 6 or 7.30 a.m from the capital is VND1,255,000.
It costs VND700,000 between Ho Chi Minh City and Da Nang on flights departing after 4 p.m.