An agreement was signed yesterday by officials from Ha Long and China's Beihei City in Guangxi, bringing the two cities together in a spirit of cooperation to develop tourism, trade and human resource training.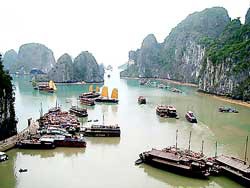 Ha Long Bay, the renowned World Heritage Site in Quang Ninh Province.
The two countries plan to develop the sea route from Beihei to Ha Long for cruise-ship tourism. Routes to other coastal cities in Viet Nam and elsewhere in Southeast Asia will also be developed.

The two sides will also work together to market tourism between the two countries, enhance the quality of tourism services and increase their mutual knowledge.
To further strengthen ties between the two cities, delegations will be sent in both directions each year to take part in exchanges of trade, culture and tourism.