The Viet Nam National Administration of Tourism (VNAT) instructed tourist agencies Monday to provide special treatment for tourists on the World Tourism Organization's Tourism Day.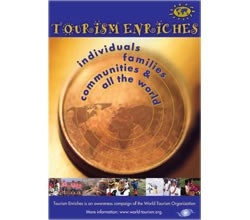 The logo of the Tourism Day 2006
Francesco Frangialli, Secretary-General of the World Tourism Organization (WTO), has called upon international tourism agencies to celebrate Tourism Day September 27.
In an effort to boost tourism-awareness, this year the VNAT has decided that Viet Nam should adhere to the "Tourism Enriches," theme chosen for this year's celebration of World Tourism Day.
The administration instructed  localities and tourist agencies to undertake activities to publicize and raise awareness of the positive impacts tourism on life, culture and economy.
VNAT has instructed businesses to celebrate tourism day by providing tourists with preferential treatment, such as souvenirs, free admission into amusement parks. In addition, fairs and cultural tours should be undertaken.