Viet Nam aims to receive 400,000 Russian visitors in 2016 and one million by 2020, Viet Nam National Administration of Tourism's (VNAT) Deputy Director-General Nguyen Quoc Hung said.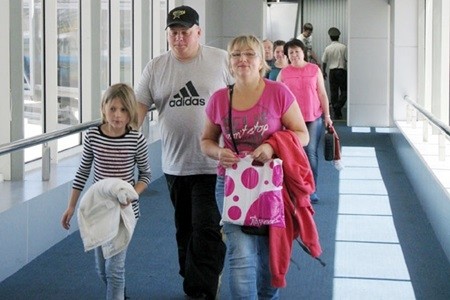 Russian tourists arrive in Viet Nam at Cam Ranh International Airport. Viet Nam aims to receive 400,000 Russian visitors this year.
Speaking at a conference in Moscow on Wednesday, he said VNAT and the concerned Russian authorities had agreed to implement a series of measures to reach these targets.
According to statistics from VNAT, the number of Russians who visited Viet Nam in February soared 8.9 per cent to touch 73,898.
Deputy Chairman of Viet Nam Tourism Association (VITA) Vu The Binh said the fact that about 300,000 Russian visitors travelled to Viet Nam was not commensurate with the relationship between Viet Nam and Russia.
VITA has been partnering with VNAT and Ha Noi City to promote Vietnamese tourism in the two major cities of Moscow and St Petersburg, with the aim of attracting more Russian visitors.
VITA has also been working with Vietnamese tourist firms to implement a stimulus programme for the Russian market. The programme will focus on new tourism products, with large discounts and trained staff, he said.
Russian official Sergey Agafonov said many Russian people had never been to Viet Nam and that it would be a good replacement for Thailand and Egypt in terms of tourist destinations.
The revenue from tours to Viet Nam was increasing, Agafonov said.
Valery Korovkin, a Russian official, believed the target of one million Russian visitors by 2020 was achievable if both sides co-operated well and promoted the tourism potential of both countries.
At the conference, representatives of a Russian tourist firm worked with 12 Vietnamese tourist firms to show some tourism products, along with discounts of 20 to 30 per cent.
Vietnamese firms introduced promotion websites by Russians, as well as tours to northern Viet Nam for Russian customers.