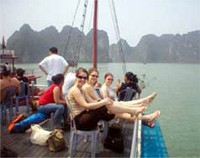 Foreign visitors in Ha Long bay
According to the vote of 1,300 people on Tripso Forum (Tripso.com), Viet Nam is one of the top 5 destinations in 2006 (after The United States of America, Guatemala, Costa Rica, Caribbean).
Viet Nam is considered a particularly interesting country with beautiful beaches, delicious food, friendly people and many exotic places for discovery. Prices are rather cheap and five-star hotels cost just equal to American two-three star hotels. On the other hand, U.S visitors have more advantages with the direct flights from U.S to Viet Nam.