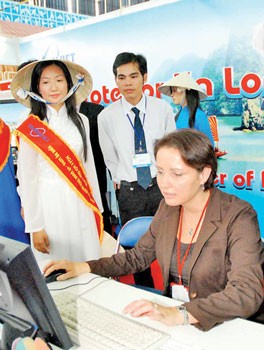 A delegate votes online for Ha Long Bay of Viet Nam to be the world's natural wonder at the HCMC's third international trade fair on October 5 in Phu Tho Indoor Stadium

Viet Nam, Laos and Cambodia have pledged to join hands in an attempt to develop tourism in the region. This pledge was made following a meeting between tourism ministers of the three countries in Ho Chi Minh City, where they issued a joint declaration on trilateral co-operation.


The three sides agreed to organize an annual forum on tourism in their respective countries in order to attract investment into the tourism industry and explore tourism potential.
Delegates all agreed to encourage their national tourism agencies to boost exchange of information and experiences with tourism promotion and development.
They also agreed to jointly hold and attend tourism events and tours and co-operate in specific personnel training.

The three countries will facilitate tourists' travel, boost tourism and cultural activities among their sister cities and heritage sites, as well as encourage public-private partnerships with regard to tourism development.

Vietnamese Minister of Culture, Sports and Tourism Hoang Tuan Anh said that the meeting of tourism ministers of the three countries, the first of its kind, was an important milestone in boosting trilateral cooperation to a new height taping their potential.

He expressed his belief that the slogan "three countries – one destination" would help build the three countries into a single tourist destination with diverse, unique and sustainable tourism products and high competitiveness in the region.

The same day, the three ministers attended Ho Chi Minh City's third international travel show, "Discovering the Sub-Mekong Region's Pearls - Viet Nam, Laos and Cambodia: Three Countries, One Destination" at Phu Tho Indoor Stadium.

Present were 125 representatives of 100 foreign travel companies from 29 countries and territories. This event provided an opportunity to meet and promote trade with around 180 partners from Viet Nam and 11 other countries at the biggest travel fair in Viet Nam to date.

Three special guests attended this event; the reigning Miss Earth, Hil Yesenia Hernandez Escoba of Chile; Miss Water, Catherine Untalan of the Philippines and 2007 Miss Earth contender Nicole Chen of Singapore.

These three ladies were in attendance to provide a message of environmental protection and sustainable development with relation to tourism development.