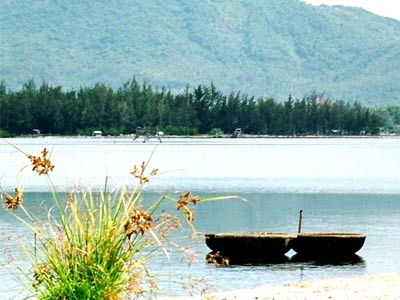 A corner of a Vietnamese village (Photo: Phan Quoc Tuan)
One of the world's biggest annual travel shows is taking place at the Excel Exhibition Center in London from November 6 to 9, and Viet Nam is there.
The myriad display booths at World Travel Market 2006 represent 202 countries and regions. Among them is Viet Nam's stall representing 11 travel agents and Vietnam Airlines, a hidden charm that seems to be making a strong impression on the crowds.
The stall takes up 80 square meters and is decorated to look like a quiet Vietnamese village. There are clumps of bamboo, lotuses and the famous conical hats made out of palm leaves, along with photos depicting daily life in various parts of the country.

There's also a special deal that Vietnam Airlines is offering for the occasion – flying from Britain to Ha Noi and from Ho Chi Minh City to Paris for the discount price of £395.

Peter Burt from Escape Travel is full of enthusiasm for this land. "Viet Nam has great natural and ecological tourism potentials attracting many European visitors. If you pay attention to the demands of tourists who are interested in discovering history, culture and pristine sights, your country will be a new destination for the millennium," Mr. Burt said.

World Travel Market, according to the publicity blurb, brings together worldwide buyers and sellers from every sector of the industry and provides a unique opportunity for the whole global travel trade industry to meet, network, negotiate, conduct business and stay abreast of the latest developments in the travel industry.